It's a crazy market in some price ranges in the Tampa Bay area. Anything under $300,000, for example, seems to just fly off the market, often with multiple offers near or at asking price. One thing we see with most of these homes, though, are renovations adding value to the home. In other words, the homes that have been recently (less than a year) remodeled or renovated, sell much faster and closer to asking price than other homes. Even homes that are move-in ready but a little dated languish on the market for days or weeks.
When we see renovations adding that much value to a home, it tells us Realtors a couple of things. First, it speaks to buyer behavior. Buyers want to move in, show off a beautiful home, and get on with their lives. Many buyers right now are simply not interested in living in a construction zone to get a pretty home. They would rather simply pay more for a home that has already been renovated. Second, we know that sellers who invest the time and money into these renovations will come out ahead. Now, I know it isn't always feasible to put $20,000 or $30,000 into a home before you sell it; however, if you are going to put money into your home, you probably will want to do so where you'll see the best return on your investment.
The following are the best and worst renovations specifically for the Tampa Bay area. The data comes directly from Remodeling's Cost vs Value Report for 2019, and the spreadsheet is pictured above. If you want more information, head over to their website and check it out for yourself.
Worst Renovations for Home Values
The worst renovations for adding value to your home are those which recoup the least percentage of your investment. They are not bad investments; they just aren't the best places to spend your money. That said, some of these are necessities so if one of the following is a remodel job that your home really, really needs, go for it!
Wood Window Replacement – 58.8% ROI
When I preview a home for buyers or show a home to buyers, one of the things I look for first is the age of the windows. If they need to be replaced, we have to take that into consideration, especially for buyers who are already stretched thin financially. Older windows, especially crank windows, will cost buyers in power costs as well as replacement costs.
While vinyl window replacement checks in as one of the best returns on investments for renovations, wood windows are one of the worst. Though it's true that most homes won't use wood windows, if you're buying an older (historic) home, chances are you might want to replace old wood windows with newer wood windows. On average, wood windows cost about $20,000 and add back a little over $11,000 in value.
Major Kitchen Remodel – 57.9% ROI
We classify kitchen remodels as minor and major, as mid-range and upscale. A major upscale kitchen remodel returns the least on the investment. So what do we mean by major and upscale? A major remodel takes it right back to the walls and sub-flooring. Major remodels replace every component, such as floors, updated electrical and plumbing, counters, cabinets, appliances, and possibly even the layout of the kitchen. An upscale remodel uses the best materials and brands. Think high-end finishes on the cabinets, quartz counter tops, and smart appliances.
Bathroom Addition – 55.7% ROI
In Pinellas County, we have a lot of homes that were built in the 1950s and 1960s as small retirement places. They were 2 or 3 bedrooms, 1 bath and sometimes a second in the garage so "the men had somewhere to wash up," and less 1100 square feet, often smaller.
As these homes became family and starter homes, the need for a second bathroom became apparent. Now many of these homes have a second bathroom in the garage, with varying degrees of completeness. Some are no more than a toilet and crude sink. Others rival the finest of indoor baths.
While the a second bathroom may become a necessity for some families, a bathroom addition rarely recoups the entire cost of the investment, making it one of the worse renovations for adding value to your home.
Master Suite Addition – 54.5% ROI
Another addition we see often in Pinellas County is the master suite addition. This one is most often a garage conversion. I've seen some really beautiful ones and some not so great conversions. The best will have the garage floor brought up to the level of the rest of the house and use materials that mimic the finishes found in the home.
When considering a master suite addition, consider more than the cost. First, be sure the addition doesn't become an over improvement for the neighborhood. Next, consider that while adding square footage to the home, if completed as a garage conversion and not done well (or permitted), an appraiser may not give much value, if any, to the conversion.
Backyard Patio – 49.5% ROI
In Florida, the backyard patio is the worst bang for your buck.
But, wait, Cris. Don't Floridians love that outdoorsy lifestyle?
Yes. And that's why it's the worst renovation choice. Because a backyard patio is so common in Florida that it's expected. Definitely, put in a patio. Use it. Enjoy it. Just don't expect it'll add anything. Buyers will expect one, and if your home doesn't have one, that'll detract from the overall appeal of the home.
All that said, the figures in the spreadsheet above put the cost of a new patio at just shy of $55,000. That's a super fancy patio (with a pool!), and we know you can install a standard 12'x12′ patio for much less money than that.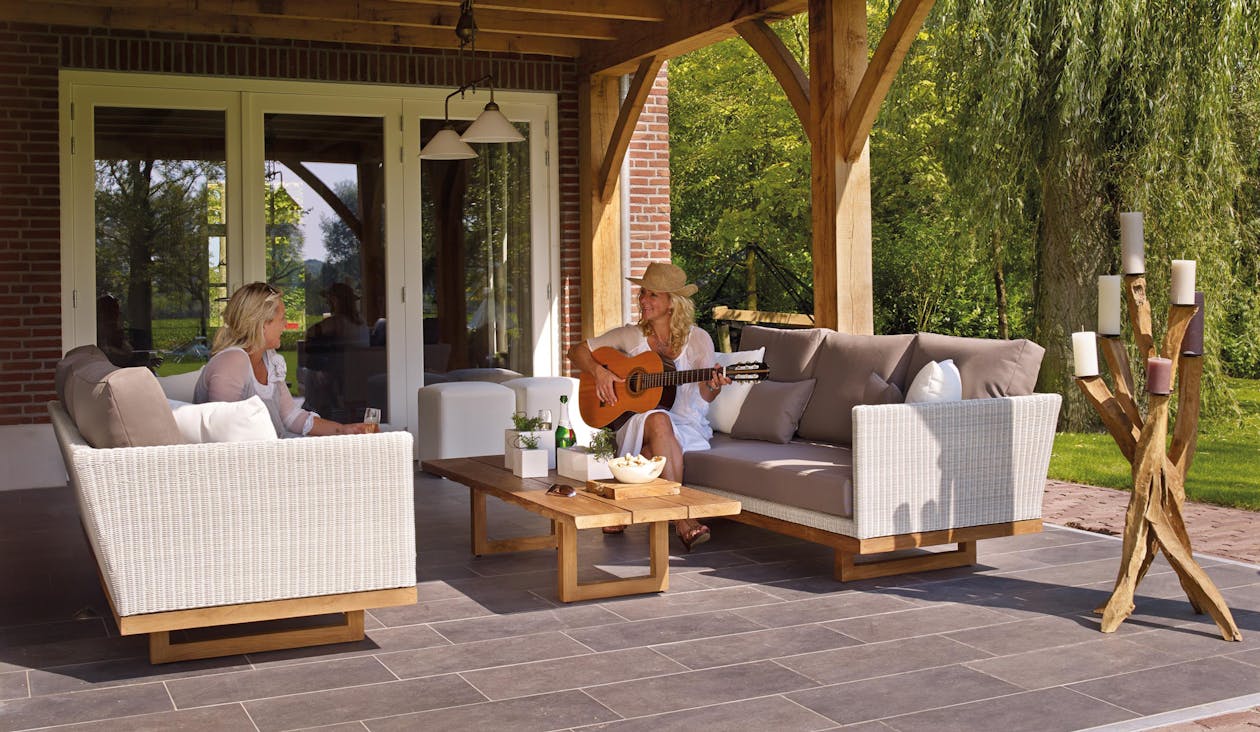 Best Renovations for Adding Value to Your Home
The best renovations for adding value to your home are those which recoup the largest percentage of your investment. Some of these may surprise you. Some, maybe not. If you have to spend money on your home prior to selling, these renovations are definitely the ones you should look in to.
Roof Replacement – 67.1%
Not only is a new roof functional and a necessity, it can actually help the sale of your home. Most loan programs will require a roof to have some kind of functional life left in it. FHA- and VA-backed loans have even more stringent requirements. If your roof is at the end of it's useful life, it's probably a good idea to go ahead and replace before putting your home on the market. It will save you a lot of headaches with contracts potentially falling through later on. And it's a great marketing blurb for the MLS and brochures.
Deck Addition – 72.5%
So…we're in Florida, and many of our homes won't fit a deck. Decks, by nature, work best in rolling terrain – which the Tampa area doesn't have – or on homes that are lifted off the ground, like older homes with crawl spaces or mobile homes. Many of you won't be able to add a deck on to your home, and for the reasons stated above under Backyard Patio, hopefully you have one of those already.
If you can add a deck on to your home, it'll be a good investment. Decks create more outdoor living space where it might be difficult to create, like on a hill side. And they can be beautiful, too, with plants spilling over the edges.
Garage Door Replacement – 73.7%
Curb appeal again. There's not much point in putting in new landscaping or painting the house if the garage door is old and dented. A garage door sets you back about $3,000 or so. It's an investment worth making, and one which is affordable for many sellers. Replacing the garage door adds character and charm to the home and ups that all-important curb appeal.
Minor Kitchen Remodel – 74.1% ROI
Whereas a major kitchen remodel ranks as one of the worst renovations for adding value to your home, a minor kitchen remodel ranks as one of the best. What's considered minor? Think new appliances, or new granite counters. It's not remodeling the entire kitchen, just some of it.
Manufactured Stone Veneer – 83% ROI
Does it surprise you to find stone veneer as the best renovation you can make? It did me. It is, however, beautiful and a trend that's been around for many years so we know it stands the test of time.
Manufactured stone veneer is usually made of Portland cement, aggregate, and iron oxide. The aggregate makes it lighter than real stone, and the iron oxide gives it the coloration needed to mimic stone. Stone veneer can be used inside – around a fire place, for instance – or on the exterior of the home. Wherever it's used, it makes an impact and provides a great degree of character.
---
Check out my home search site at www.realtorcrisintampa.com. On there you can search homes, save neighborhoods you're interested in, save homes you love, see local recommendations and insights, see school info, calculate commute times and much more.
Interested in an easy-to-use, no-obligation mobile search app? Try my KW app. It's free! And it works all over the US. Download it now!